Community Trade
Wie stellen wir sicher, dass unsere Produkte nachhaltig bezogen werden?
1987 lancierten wir unser Community Trade-Programm und waren damit ein Vorreiter in der Kosmetik-Industrie. Durch unser Community Trade-Programm pflegen wir direkte Beziehungen mit sozial benachteiligten und ausgegrenzten Gemeinschaften rund um den Globus und ermöglichen den Produzenten ein regelmässiges und langfristiges Einkommen.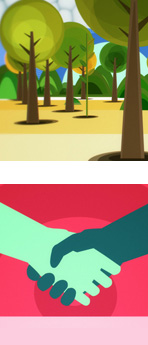 Wir können auf einige der weltbesten Inhaltsstoffe zugreifen, die lokal angebaut und von erfahrenen Bauern auf traditionelle Art und Weise verarbeitet werden. Im Gegenzug geben wir den Bauern, Produzenten und Gemeinden eine Chance für eine bessere Zukunft und verändern ihr Leben positiv.
Unser Ziel ist, unsere Nachfrage nach natürlichen Inhaltsstoffen, Geschenken und Accessoires auf eine faire Art und Weise zu decken. Wir arbeiten mit über 25'000 Bauern und Produzenten zusammen, welche uns mit 20 aus der Natur gewonnenen Inhaltsstoffen versorgen sowie mit 60 Geschenken und Accessoires.
Ab 2010 wollen wir all unser Holz aus nachhaltig bewirtschafteten Beständen, zertifiziert durch den Forest Stewardship Council (FSC), beziehen.
The Body Shop hat als erstes globales Kosmetikunternehmen nachhaltiges Palmöl in seinen Produkt-Linien eingeführt, um gegen die weltweite Bedrohung der Artenvielfalt und Regenwälder anzukämpfen. Viele Menschen, die jeden Tag Seife benutzen, sind sich nicht bewusst, dass sie zu einer großen Umweltkatastrophe beitragen – der Zerstörung von Regenwäldern und dem Aussterben bedrohter Tierarten. The Body Shop macht sich bereits seit einigen Jahren für das Palmöl-Problem stark und hat eine führende Rolle am globalen "Roundtable on Sustainable Palm Oil" (RSPO) eingenommen, welcher zum Erhalt der biologischen Vielfalt beiträgt. Als The Body Shop dem RSPO im Jahr 2004 beitrat, betrug die Zahl der Mitglieder nur 10 Organisationen. Drei Jahre später haben sich bereits mehr als 250 Organisationen verpflichtet, Lösungen für die ernsten Probleme, die durch die Palmöl-Produktion auftreten, zu finden. Unsere Seifen verkaufen sich im Jahr 7.5 Millionen Mal. Wir sind stolz sagen zu können, dass das dafür verwendete Palmöl aus einer Plantage stammt, die erfolgreich gemäss den Vorschriften des RSPO produziert.
Wir bitten unsere Lieferanten den Code of Conduct zu unterzeichnen. Er schützt die Bedingungen der Arbeitnehmer in der Lieferkette und wahrt ihre Menschenrechte. Dieser streng überwachte Code gewährleistet, dass keine Kinderarbeit und Diskriminierung stattfindet und dass Mindestlöhne, Arbeitszeiten und Arbeitsbedingungen eingehalten werden.
Wir haben uns immer bemüht, nur Pflegeprodukte zu lancieren, die den Planeten und die Menschen, die auf ihm leben, respektieren. Wir lernen fortwährend von einheimischen Produzenten, hören ihnen mit Ehrlichkeit und Respekt zu und entlöhnen ihre Arbeit fair.
Mehr Informationen